ELSA HJERONYMUS. PURIFYING CLEANSER NO 7, An effective anti-bacterial and non-comedonic cleanser.
Price:
From 16,75 €
167,50 €/liter
An effective cleanser which help flush out pores.
It`s clean action helps removing oil and impurities from skin. Refreshing Tonic no 9 or Mild Tonic no 13 is to be used after no 7. Contains alcohol.
This cleanser is suitable for normal to greasy skin.
INCI:
Alcohol Denat, Aqua, Glycerin, Sodium Laureth Sulfate, Citric Acid, Parfume, Cl 44090, Cl 19140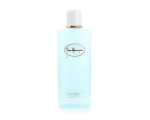 SKU:
e ,
Delivery time:
1-5 päeva
From 16,75 €