Byotea Lipodraining Synergy
SKU:
Byotea
Brand:
Byotea
Qty:
1
Delivery time:
1-5 päeva
Price:
20,40 €
204,00 €/liter
Essential oil reduces stagnant fluid. Eliminates toxins. Counters build-up of localized adipose. Active ingredients: Essential Oils of Grapefruit, Fennel, Thyme and Rosemary.

PARABENS – PARAFFIN – GMO – SLS – SLES FREE.
Nickel tested.
Pour the product directly onto the hands or on the specific area, massage until fully absorbed.
GRAPEFRUIT ESSENTIAL OIL – Combats water retention, cellulite and muscle tension. Reduces cellulite and helps removing excess lymph.

FENNEL ESSENTIAL OIL – Draining action due to increased lymphatic motility. Reduces swelling, with a beneficial effect on cellulite.

THYME ESSENTIAL OIL – Disinfectant, antimicrobial, reduces spasms. Very effective as antiseptic, it integrates nicely with other essential oils.

ROSEMARY ESSENTIAL OIL – Antiseptic and astringent. Helps to reduce the inflow of lymph.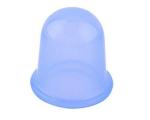 SKU:
k ,
Delivery time:
1-5 päeva
2,70 €