Byotea Barbary Fig Concentrated Repairing Serum
SKU:
b
Brand:
Byotea
Delivery time:
1-5 päeva
Price:
21,60 €
432,00 €/liter
Serum especially for sensible, couperose-prone skin. Soothing and decongesting action. Defends skin from wind, sun and cold and guarantees a sensation of wellbeing. Leaves skin looking visibly toned and smooth as silk.

A highly innovative formula, which thanks to the properties of Barbary Fig oil, is able to keep skin fresh and functioning properly. Barbary Fig Oil is naturally rich in Vitamins E and F Sterols Omega 6 and Omega 9. It is obtained exclusively by cold pressing seeds and has soothing, firming, antioxidant, hydrating and regenerating properties.

Actions:
- Guarantees an immediate soothing and nourishing action, bringing relief to sensitive skin.
- Prevents reddening and irritations and keeps the face looking bright and fresh.
- Defends the skin even from extreme weather conditions, keeping it visibly toned and silky.

Free of parabens, paraffin, OGM, SLS, SLES.
Nickel* tested.
* Nicel present in less that 1 part in a million.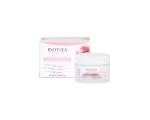 SKU:
b ,
Delivery time:
1-5 päeva
18,00 €