Biosilk Silk Therapy with Organic Coconut Oil 3-in-1
SKU:
b
Brand:
Biosilk
Qty:
1
Delivery time:
1-5 päeva
Shampoo, conditioner & body wash
A versatile and gentle cleanser that removes impurities while adding essential moisture to the hair and skin. Conditions and provides balanced care for the hair and skin while helping to maintain and preserve hair color. Skin is left soft, smooth and nourished.

• Moisturizes hair and skin
• Provides volume and body
• Controls and defines curls
• Reconditions dry, damaged hair and skin
• Strengthens the hair
• Revives dull lifeless hair and skin
• Smooths the cuticle
• Controls frizz and flyaways
• Prevents split ends
• Reduces hair breakage
• Seals the hair
• Protects hair color from fading
• Protects hair and skin from environmental damage
• Offers thermal protection
• Leaves hair and skin soft and silky
• Adds incredible shine
Apply desired amount onto palms and distribute evenly throughout damp hair. For use as a body wash, apply onto a wash cloth or body sponge and massage into the skin. Rinse.
Organic Virgin Coconut Oil
Lightweight and quick absorbing certified organic virgin coconut oil contains many essential fatty acids which nourish the hair and skin while acting as a gentle moisturizing agent. Conditions the hair from within, protecting it from heat and environmental damage. As a rich natural moisturizer, coconut oil leaves skin soft and supple. Improves the overall condition of the hair and skin by adding luster, shine, and softness.

• Known as a beauty oil for multi-uses
• Protects against heat and environmental damage
• Adds incredible shine and softness
• Helps to lock in moisture
• Relieves dryness

Silk
Containing 17 amino acids, silk proteins penetrate and strengthen hair while reinforcing the structure of weakened hair strands. Silk's overall conditioning properties contribute to notable luster and shine.

• Provides a silky texture and shine
• Retains moisture
• Improves elasticity and strength
• Moisturizes hair and skin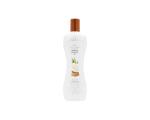 SKU:
b ,
Qty:
1 ,
Delivery time:
1-5 päeva
From 3,36 €