Inebrya Ice Cream No-Yellow Mask
SKU:
i
Brand:
Inebrya
Qty:
1
Delivery time:
1-5 päeva
Price:
From 9,90 €
33,00 €/liter
Intensive anti-yellow mask enriched with a very highly concentrated and pure special Violet pigment to effectively neutralize the yellow effect on blond, bleached and grey hair.

The extreme quality of the HMW chromatic pigment perfectly combines with the rich conditioning base - not greasy, yet capable of conditioning dry and dehydrated hair very easily - featuring high detangling, soothing and taming properties.
Wearing suitable gloves, apply after No-Yellow Shampoo on towel-dried hair, massage and comb through. Leave on for 3 to 5 minutes and rinse off. For an even more intensive action, leave on up to 10 minutes.

Note: on bleached hair, results can significantly vary depending on the hair porosity.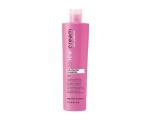 SKU:
i ,
Delivery time:
1-5 päeva
From 7,50 €