CHI DEEP BRILLIANCE OPTIMUM MOISTURE CONDITIONER
SKU:
c
Brand:
Chi
Qty:
1
Delivery time:
1-5 päeva
Price:
From 4,00 €
35,21 €/liter
Conditioner for damaged hair
Conditioner instantly hydrates hair using a blend of moisture-rich Olive Oil & Monoi Oil that restores moisture, while strengthening and improving the condition of dry, damaged hair.

The CHI Deep Brilliance Oli & Monoi Oil Optimum Moisture line combines the rich hydration of Olive Oil with Monoi Oil's unique blend of Coconut Oil and Tiare Gardenia flowers that helps strengthen hair while reversing damage and protecting hair from future damage. Provides superior moisture and reconstruction to textured and chemically-treated hair promoting healthy, more manageable tresses.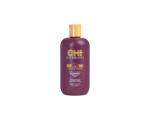 SKU:
c ,
Qty:
2 ,
Delivery time:
1-5 päeva
From 4,00 €