Tahe Botanic Tricology Fitoxil Mask
Brand:
Tahe
Qty:
1
Delivery time:
1-5 päeva
Strengthening mask
Treatment mask to thicken the hair's fibres. The active ingredients deeply penetrate the hair and are absorbed from within to create a super-nourishing and thickening effect. Instant effect. For all hair types.

Paraben free.
Intensiivhooldus hõrenevatele juustele
Võimas segu aktiivsetest koostisainetest, mis toidavad juukseid ja muudavad nad tervemaks. Antud toode muudab juuksed paksemaks ja vähendab juuksekadu meestel ning taastab juuksefolliikulid naistel. Koostises sisalduv fiksotiil stimuleerib ja kaitseb juuksesibulat ja seda ümbritsevat nahka, takistades ja hoides ära ülemäärase juuksekao.

Parabeenivaba.
,
Qty:
2 ,
Delivery time:
1-5 päeva
8,16 €
,
Qty:
1 ,
Delivery time:
1-5 päeva
8,16 €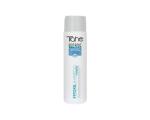 300ml
,
Qty:
2 ,
Delivery time:
1-5 päeva
6,60 €