Biodroga Sensitive Formula 24h Care For Oily Skin
3-16.06 Ripsmetušid -20%. Kasuta sooduskoodi: f7E4f2d07aeF
SKU:
b
Brand:
Biodroga
Qty:
0
Delivery time:
1-5 päeva
24h kreem rasusele nahale
The particularly delicate textures soothe, protect and condition skin. They support its resistance and diminish irritations and redness. In addition, this gentle care balances skin's lipid and moisture level leaving a pleasant skin feel.

24h Care for oily skin - oil-free - The matting formula contains panthenol and licorice root extract. It improves the natural balance of skin, supports its moisture balance and diminishes light irritations. Sensitive skin is soothed, rough, flaky spots are conditioned and smoothed without leaving a greasy film. Sensitive skin feels good again.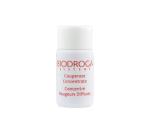 3ml
SKU:
b ,
Qty:
3 ,
Delivery time:
1-5 päeva
2,76 €
Silmaümbruskreem tundlikule nahale 15ml
SKU:
b ,
Qty:
1 ,
Delivery time:
1-5 päeva
23,40 €